For information about the older poll feature, see Help:Poll.
Discussions includes the option to create a poll within a post, which can be useful for engaging community members and starting conversations.
Polls are available in the unified mobile Fandom app, but they are not available in the Community Apps.
Creating a poll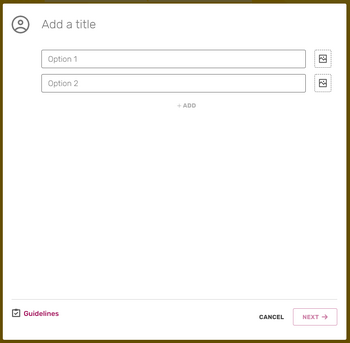 It's easy to create a new poll in a Discussions post.
Click on the button with the chart icon or click the first button that represents the text icon, then click the "ADD POLL" button.
Type a question at the top of the poll.
Add answer options. The minimum number of options is 2 and the maximum is 6.
Publish your post! Remember that you may need to choose a category for the new post.
Users will be able to vote in the poll, as well as upvote the post and add replies. Once a poll is created it cannot be changed.
Other notes
Closing a poll
The best way to end voting in a poll is to lock the post, which can be done by a Discussions moderator or an administrator.
Viewing lists of users who voted

There are two ways to view lists of users who have voted in a poll:
To see a full list of users who voted, click the total vote count that is displayed in the lower right corner of the post. This list can be accessed even if you have not voted in the poll.
To see a list of who voted for a specific option, click the option after you have cast your vote. These lists can only be viewed by users who have already voted.
Deleting a poll
To delete a poll, edit the post containing the poll and click the

('delete') button. Once a poll is deleted, its data is erased and cannot be recovered.
Community content is available under
CC-BY-SA
unless otherwise noted.